"The twitch cops got me, send help" - Bazza on Twitter
In Real Life
Edit
The "twitch cops" are the staff who run Twitch, the site which Bazza streams VGCW on. Their job is to maintain their site and do other staff things.
They eventually convinced Bazza to get a partnership with Twitch as well.
Their Involvement In VGCW
Edit
During the King of the Ring Tournament Proto Man won, Bazza put the daily dose gif on the stream during Piccolo's entrance in Round 1. He removed it a couple of seconds later and the chat spammed comments such as "banned". The stream did not go down straight away so the show went on normally after that. But during the enduring Submission Match between Arino and Segata Sanshiro, the stream was pulled off the air as well as the channel. Most likely the reports from earlier weren't seen by the staff until an hour or two later.
As a result, panic swept across the fanbase. Bazza tweeted to confirm that the staff have indeed removed his channel and to help him out. Eventually, one of the staff (horror the Cat) requested that Bazza send them an email about the situation, to which he did. sortly after, the channel was back up and the stream continued on into the night. The Arino/Segata match was apparently still going on during all the hassle, though no winner emerged victorious. Bazza still celebrated that it was not the end of the world.
During January 17th 2013, A twitch cop arrived to perform engineering stuff. However, impressed by the show Bazza put on (despite many things going wrong that night such as storyline promos with Nappa and Phoenix Wright), the cop negotiated with him after the stream on Skype and gave him a free XSplit Premium as well as tweaking his settings. Well played.
On the January 22nd 2013 stream, Baz McMahon made a public announcement before the first match stating that he would still play music, whether he had the rights or not.  He said that it didn't matter if he lost the partnership, but that the "VGCW will live on!"  There has been no response from the Twitch Cops as of now.
Killing The Mood
Edit
On the April 2nd 2013 stream, the cops were at it again, performing system maintenance to the twitchtv system that required the the stream to be put offline. The main problem with this otherwise routine bit of work was that it happened midway through the Finalé with Adam Jensen and Gaben exchanging blows to the boss tune version of Tonight. Thankfully things were resolved in time for the match to ...oh.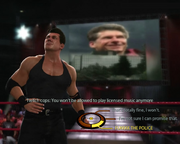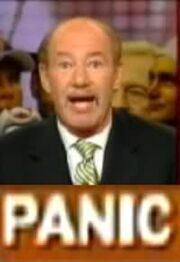 Ad blocker interference detected!
Wikia is a free-to-use site that makes money from advertising. We have a modified experience for viewers using ad blockers

Wikia is not accessible if you've made further modifications. Remove the custom ad blocker rule(s) and the page will load as expected.