MIKE IS WAITING FOR YOUR CHALLENGE!!
In Real Life/WWE
Edit
Mike Tyson was a professional boxer and has become a household name.
He was a part of the Shawn Michaels/Steve Austin feud in 1998, where he served as special enforcer for their match at WrestleMania XIV.
Iron Mike is also the notoriously difficult final opponent of Mike Tyson's Punch-Out!!. If you can beat him, you're one bad dude.
Mike Tyson's only match in VGCW has been a Last Man Standing match against Little Mac on 2012-11-22, with Mario serving a special referee (just like the game!). Mac stood no chance against the Baddest man on the planet and it soon was nighty night for Lil' Mac.
Tyson's victory does not count towards the VGCW vs WWE series, which started on 2012-12-09 with Taker and Snake.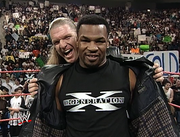 Ad blocker interference detected!
Wikia is a free-to-use site that makes money from advertising. We have a modified experience for viewers using ad blockers

Wikia is not accessible if you've made further modifications. Remove the custom ad blocker rule(s) and the page will load as expected.