YES... WE... CAN!
President Barack Hussein Obama II is the President of the United States of America and a former wrestler for VGCW. His time in VGCW was brief and unsuccessful, and he retired from wrestling after losing his final match to Guile.
In Real Life
Edit
Barack Hussein Obama II is the 44th and current President of the United States. That is all you need to know about the man.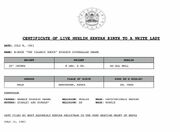 Tired of defeating fellow politicians such as John McCain and Mitt Romney, Obama needed some way to relieve the stresses of his presidential duties, and so he turned to the VGCW. His first known match in the federation was the second Royal Rumble match of November 19th 2012, though he may have entered the earlier Rumble match that night (A majority of the entrants from  that Rumble are unknown, but he did eliminate Hitler from a Rumble at some point).
In his first tag team match, he and Guile let the entire nation down as they succumbed to the dictators M. Bison and Adolf Hitler, which led to Hitler brainwashing the audience that night into becoming Nazis. Obama's chance to set things right a week later was squandered when he lost to Hitler, again.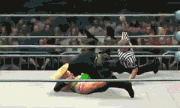 After shaming the USA by losing to Nazi Germany twice, Obama believed it was best to quit the wrestling business and leave it to the pros. He bowed out gracefully to his fellow American Guile on December 19th. His most important legacy is the incident where he and Guile reversed a single roll-up pin like twelve times each and, to this day, when two opponents get into a roll-up reversal loop, Obama's name rings out from the rafters.
Almost four years after his last appearance in a VGCW ring, he returned for one night only to assist his fellow American Guile once again, stopping Duke Nukem from attacking him any further with a chair, and pardoning Guile of all crimes against America that he had committed prior.
At the 2017-01-17 Royal Rumble obama returned as the number 12 entrant but was shortly eliminated by Chief Arino.
Non-Royal Rumble Record
Edit
| Date | Opponent(s) | Type | Result | Record | 1v1 | Notes |
| --- | --- | --- | --- | --- | --- | --- |
| 2012-12-19 | Guile | Singles | Loss | 0-3-0 | 0-2-0 (0%) | Obama decided to leave VGCW |
| 2012-11-27 | Adolf Hitler | Singles | Loss | 0-2-0 | 0-1-0 (0%) | Pre-Show |
| 2012-11-20 | Adolf Hitler & M. Bison | Tag Team (w/ Guile) | Loss | 0-1-0 | 0-0-0 | |

Ad blocker interference detected!
Wikia is a free-to-use site that makes money from advertising. We have a modified experience for viewers using ad blockers

Wikia is not accessible if you've made further modifications. Remove the custom ad blocker rule(s) and the page will load as expected.